Governor of Florida Chose Freedom Over Faucism
DeSantis: Florida chose 'freedom over Faucism' in response to COVID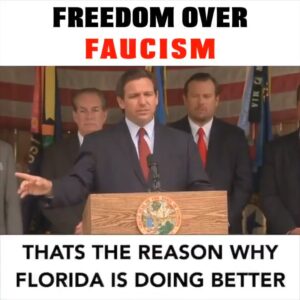 Jun. 04, 2021 – 0:45 – Florida governor slams Biden's chief medical adviser over handling of coronavirus in light of recent email revelations on 'The Ingraham Angle'
All Aboard Air Fraudci: A Lie As American As Apple Pie
About Jeff Berwick  Anarcho-Capitalist.  Libertarian.  Freedom fighter against mankind's two biggest enemies, the State and the Central Banks. Jeff Berwick is the founder of The Dollar Vigilante and creator of the popular video podcast, Anarchast
Number of Deaths Reported After COVID Vaccines Jumps by More Than 2,000 in 1 Week, According to VAERS
VAERS data released today by the CDC showed a total of 438,441 reports of adverse events from all age groups following COVID vaccines, including 9,048 deaths and 41,015 serious injuries between Dec. 14, 2020 and July 2, 2021.
Data released today by the Centers for Disease Control and Prevention (CDC) included 9,049 reports of deaths, across all age groups, following COVID vaccines — an increase of more than 2,000 compared with the previous week. The data comes directly from reports submitted to the Vaccine Adverse Event Reporting System (VAERS).
VAERS is the primary government-funded system for reporting adverse vaccine reactions in the U.S. Reports submitted to VAERS require further investigation before a causal relationship can be confirmed.
Every Friday, VAERS makes public all vaccine injury reports received as of a specified date, usually about a week prior to the release date.
Data released today show that between Dec. 14, 2020 and July 2, 2021, a total of 438,441 total adverse events were reported to VAERS, including 9,048 deaths — an increase of 2,063 over the previous week. There were 41,015 serious injury reported during the same time period — up 6,950 compared with last week.
In the U.S, 328.9 million COVID vaccine doses had been administered as of July 2. This includes: 134 million doses of Moderna's vaccine, 182 million doses of Pfizer and 13 million doses of the Johnson & Johnson (J&J) COVID vaccine.
Of the 9,048 deaths reported as of July 2, 22% occurred within 48 hours of vaccination, 15% occurred within 24 hours and 37% occurred in people who became ill within 48 hours of being vaccinated.
Governor of Florida Chose Freedom Over Faucism
This week's data for 12- to 17-year-olds show:
This week's total VAERS data, from Dec. 14, 2020 to July 2, 2021, for all age groups show:
22% of deaths were related to cardiac disorders.
50% of those who died were male, 45% were female and the remaining death reports did not include gender of the deceased.
The average age of death was 74.7.
As of July 2, 2,678 pregnant women reported adverse events related to COVID vaccines, including 994 reports of miscarriage or premature birth.
Of the 4,456 cases of Bell's Palsy reported, 59% were attributed to Pfizer vaccinations, 39% to Moderna vaccine and 7% to J&J.
398 reports of Guillain-Barré Syndrome, with 47% of cases attributed to Pfizer, 40% to Moderna and 19% to J&J.
121,092 reports of anaphylaxis with 46% of cases attributed to Pfizer's vaccine, 46% to Moderna and 7% to J&J.
8,256 reports of blood clotting disorders. Of those, 3,959 reports were attributed to Pfizer, 2,699 reports to Moderna and 1,552 reports to J&J.
1,796 cases of myocarditis and pericarditis with 1,177 cases attributed to Pfizer, 563 cases to Moderna and 52 cases to J&J's COVID vaccine.
Pfizer says boosters needed, U.S. federal health agencies, scientists disagree
As The Defender reported today, U.S. federal health agencies and the maker of one of the most popular COVID vaccines are publicly at odds over if or when fully vaccinated people will need a third "booster" dose.
Pfizer announced Thursday it will seek Emergency Use Authorization from the FDA in August for a third dose of its COVID vaccine. The drugmaker predicted those who have been fully vaccinated will need a booster shot within six to 12 months of receiving their second dose of the Pfizer vaccine.
But the U.S.Department of Health and Human Services (HHS) hours later issued a joint statement by the FDA and Centers for Disease and Control and Prevention (CDC) saying, "Americans who have been fully vaccinated do not need a booster shot at this time. REF: Full press