COVID-19 vaccine candidate from Oxford University and AstraZeneca on hold after 'unexplained illness'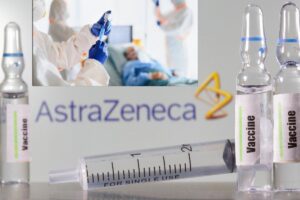 Covid-19 AstraZeneca Vaccine Trial Paused
ZURICH (Reuters) – AstraZeneca's pause of an experimental vaccine for the coronavirus after the illness of a participant is a "wake-up call" but should not discourage researchers, the World Health Organization's (WHO) chief scientist said on Thursday.
AstraZeneca (AZN.L) has paused human trials of a COVID-19 vaccine developed in partnership with the University of Oxford.
The COVID-19 vaccine participant whose unexpected illness put the AstraZeneca trials on pause came down with an inflammatory syndrome known as transverse myelitis, according to a report.
Covid-19 AstraZeneca Vaccine Trial Paused
The illness results in inflammation of both sides of the spinal cord, interfering with how messages are sent throughout the body and potentially causing paralysis, according to the Mayo Clinic.
StatNews, a specialist medical website in the US, first reported on Tuesday evening that AstraZeneca had paused a large Phase Three trial of AZD1222, an experimental vaccine previously known as ChAdOx1 nCoV-19.
A spokesperson for AstraZeneca confirmed to Yahoo Finance UK the trial had been halted after the discovery of an "unexplained illness" in one patient.
The vaccine, known as ZD1222, was in its Phase 3 trial stage both in the U.K. and in the U.S., and due to one of its U.K. participant's reaction to the drug, the entire trial has now been put on pause. Although the participant has suffered a strong reaction, reports have stated they will recover.